Carlane Court is also OUR holiday home – and as our guests, we aim to offer you everything you would expect from a 'Home from home' whilst you are away. Luxury bed linen for a really comfortable sleep, a well stocked kitchen and amenities – and a super clean accommodation are all important to us. With four different private places to stay, you can comfortably holiday with more than one household or extended family at the same time.
Your accommodation is self contained, so no one will be passing by your room in the corridor, no banging hotel doors – and no 'housekeeping' wanting to come in daily. Sleep well…
If you have any questions… we are happy to help. You can call us directly.
Mike & Cathy Cairney (co owners)
Cathy – Mob: +44 7855 967452
Mike – Mob: +44 7877 424108
Or… you can email us: hello@carlanecourt.co.uk
Just a great space for you and your guests & family to enjoy!
Our guest guide is full of recommendations for: places to visit and explore, beaches to enjoy and local information. You will find one in your accommodation on your arrival – yours to keep if you wish.
'This is by far the best self catering property I have stayed in, very spacious and tastefully decorated. So well equipped it really is like home from home.  Would not hesitate to recommend to family and friends'.      Craig & Laura • Chesterfield
Lower Carlane fitted our needs for our two weeks so well. We were very much at home , it was comfy and had all that we required. Loved having extras not often found in holiday accommodation i.e. the slow cooker and hair dryer.
You have created a friendly atmosphere for your guests.'    Iain & Mary with Andrew
'The property was very clean, comfortable and had all the amenities that we could need.  Beverley was very welcoming and nothing was too much trouble.'      Louisa • Bedfordshire
'The accommodation was excellent and we wanted for nothing'      Vicki & Simon • Maidenhead
 'We loved staying at Lower Carlane; we visited in September and returned to celebrate Christmas and New Year 2021. The property was really clean and comfy. In September, the sky was so blue and we were able to take our Westie dog  everywhere… the pub, the beach and on the boats!  At Christmas, the courtyard twinkled and we cooked a Christmas dinner, which we shared with our guest neighbours in The Stables. There is plenty to do – next time I really want to go to the Babbacombe Model Village – it sounds so FUN and you can take your doggie too'.     Gary & Hazel • West Sussex
'We had a fantastic week staying at Lower Carlane Court – a great place for us (plus dog!) to explore beautiful South Devon.  My favourites were the slightly alternative atmosphere of Totnes and dinner looking out over the river at The Seahorse in Dartmouth'.     Max & guests • Buxted
Sleeps 6 – 9
Upper Carlane is a beautiful and majestic 3 bedroom self contained barn conversion, with exposed beams and high ceilings. There is a large, sumptuous kitchen/dining and lounge area, with feature log burner and plenty of room for everyone to sit together.
There is also a second lovely large reception room with large comfy sofas, T.V. and DVD player.
The sunroom also opens on to your own private garden, with sun loungers and BBQ. 
Sleeps 4 – 6
Lower Carlane is a really lovely spacious 2 bedroom apartment – running the full lower level below the main house. As you enter, there is a kitchen/diner with a table for six. Following on is a a very comfy lounge with three sofas, which opens onto a secluded private courtyard garden; great for sun bathing, barbecues, maybe a paddling pool – and doggies too. Lower Carlane is dog friendly all year round and surrounded by dog friendly beaches.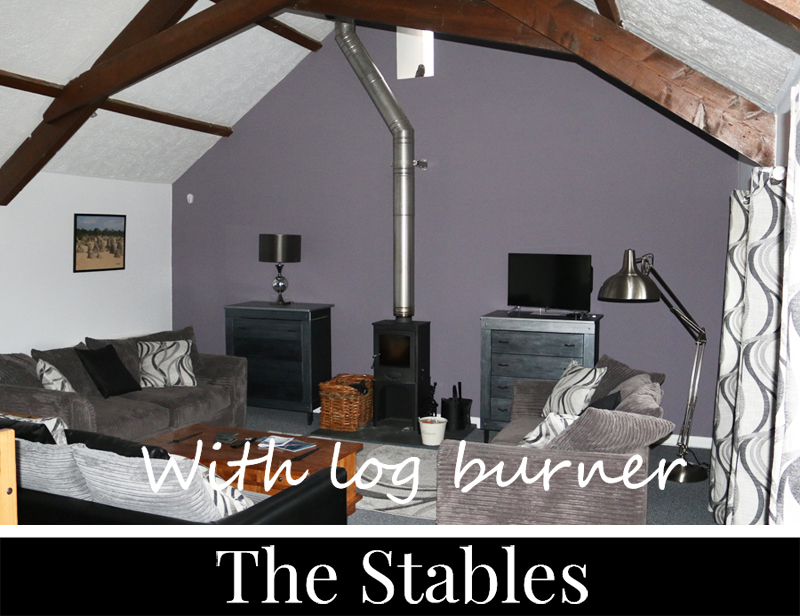 Sleeps 6- 9
Set over two levels The Stables is a majestic 3 bedroom barn conversion, retaining many original features. The bedrooms and family bathroom are located on the lower floor – keeping you cool at night.
As you go upstairs, there is a good sized fully stocked kitchen; turn right and you enter the large majestic living room with original high beams and a log burner. There are 3 comfy sofas and a dining table to seat six.


As part of their green initiative, Carlane Court has two E.V. charging points on -site; powered by their solar panels. Really easy to book a slot. You can download the free App at www.co-charger.com 
If you  are after a traditional English breakfast – you can buy all the ingredients at your local Community Shop (walkable) OR… we recommend you head out in the car and pass by
Stokeley Farm Shop – where they make it for you.