At 'Buckingham Palace' you will be surprised by the well known guests arriving
Address: Babbacombe, Torquay TQ1 3LA Closes at 3pm
Please pre-book your visit in advance to ensure entrance availability PLEASE NOTE: The village site is cashless – payment is by card only  Book here
Feel like a GIANT as you walk around this amazing model village; it is huge with everything in incredible detail – all in mini scale. Even the smallest child gets to feel like a giant here!
As you go through the entrance you can see the whole park laid out in front of you – with miniature trees, and complete attention to detail throughout; all of the houses are fully furnished – tables, chairs, people, WORKING televisions etc. SOOO… much fun – for kids and big kids of all ages. 
When it opened in 1963, the village was a representation of an imaginary idyllic area of the English countryside. It has since developed to include more urban features, monuments and landmarks – including a football stadium complete with streakers!
 4 acres of award-winning gardens showcasing hundreds of model scenes, vehicles & people. 13,000 'residents' live in the village
Takes a good 3 hours to walk around and really enjoy this place – no rush…
Free mini crazy golf room
Fun 4d cinema to keep the kids entertained
Dogs on the lead are welcome (outside only)
Adults will particularly enjoy the humour which you will find everywhere!
An action packed day out with plenty of fizzy fun!
Woodlands Family Theme Park
Address: Woodlands Leisure Park A3122, Totnes TQ9 7DQ
The largest theme park in Devon
Enter a fantasy wonderland of magical zones and a world of amazing adventures. Enjoy a ride on one of the largest watercoasters, become a Ninja hero and explore the hidden woods. The action packed park is the perfect base for all Super Heroes seeking a trail blazing day of fun.
Zoo – Farm • Tractor rides • Falconry • Ninja Zone • Sea Monster Zone • DinoTrex • Toddlers' Village • Circus Drome (inside) 
Whatever the Weather…
125,000 square feet of indoor fun too
Address: Wormhill Farm, Newton Abbot, TQ13 8RG
The Miniature Pony Centre is an animal lover's idea of heaven located in the heart of Dartmoor National Park. 
You can come along and surround yourself with miniature ponies and tiny foals, giant donkeys, miniature donkeys and podgy pigs.
If you have never ridden a pony, now is the chance for children aged 3-10 to give it a go!  Riding hats are provided and an experienced member of staff will lead them round 1 lap of the Sands School. The walk is by lead rein only. Cost: £2.50 per ride.
Wellies are recommended
Daily events and entertainment – get down and dirty on their muddy puddle adventures on wet days or cuddle up with your own fluffy friend in pets paddock (daily at 2pm)
 There is a café serving light lunches, Devon cream teas, hot and cold drinks and homemade biscuits and cakes
If you want to bring your own picnic – there are plenty of picnic benches, including covered areas
Hidden gardens and lakes to explore – spy all the mini beasts, birds and bunnies that run wild around the grounds
Care for a pony for a day 
The farm runs pony care days throughout the season. Typically, these days run from 10.30 – 4pm.
 Perfect for children aged 7 – 11.  The children get the opportunity to learn all the aspects of having and caring for horses
Care days are organised on an ad hoc basis; the farm requires 4 children to make a day happen, so if you have a date in mind please contact them as soon as possible and they will try their hardest to organise and run the day
Their miniature donkeys go out with the pony herd at the end of every day, however donkeys prefer their own kind and don't make great horse companions.
Dartmoor Ponies
Untamed Dartmoor Hill ponies live in herds on the moor
Meet and pet beautiful miniature ponies
Local Sharpham cheeses and wines ... sold around the world
Address: Sharpham Estate, Totnes TQ9 7UT
You are invited… to visit, sample, and make up your own minds about their fine English wines and delicious cheeses. Their alfresco restaurant and shop are also a delight and worth a visit.
Classic English wines are produced at Sharpham vineyard as a result of a happy marriage of soil, climate and grape variety. Their tally of International Awards confirms their position as one of England's foremost quality wine producers.
Award winning soft cheeses are handmade at The Sharpham Estate. The Sharpham Brie is a particular favourite.
You can book cheese and wine tasting events or just enjoy a walk around the vineyard and visit the shop
The South Devon Railway is one of Devon's and the West Country's best loved tourist attractions.
They run steam trains with heritage rolling stock and offer a wonderful all day, all weather attractions for families and people of all ages.
Not all trains are steam trains, so it is worth checking when the steam trains are running, if that is important to you.
The SDR is a seven mile former Great Western Railway branch line, built in 1872, which runs along the stunning valley of the River Dart between Buckfastleigh and Totnes.
Discounted Tickets
At either end  of the journey are attractions – The Dartmoor Otters & Buckfast Butterflies centre is next to Buckfastleigh station and the award-winning Totnes Rare Breeds Farm is adjacent to Totnes station.
You can buy discounted tickets to enjoy all three in one day
Choo choo... on the South Devon Railway
A view of the Salcombe Estuary
Dartmouth River Boats & Steam Trains
Just 8 miles from Carlane Court, Dartmouth is a beautiful harbour town on the banks of the River Dart. Sailing… cruises… water sports, walks, ferry rides and cruises… and recommended places to eat and drink.  
You are also well placed to explore the South West Coastal Path Walk.
An annual celebration... Royal Dartmouth Regatta 21st-23rd August 2021
Dartmouth Royal Regatta is a very popular annual 3 day event held at the end of August; visitors from all over the world come to join in. 
The Port of Dartmouth Royal Regatta transforms the town into a week long hub of festivities and is one of the best times of year to visit Dartmouth for water-related activities and family fun.
Dartmouth Farmers' Market
Saturdays - The Old Market Square every second Saturday 9am - 1pm
Every Friday - Padanaram village, St. Mary's Parish Centre Lawn, 789 Dartmouth 1pm - 6pm (June to October)
Find a wide range of wonderful produce all locally sourced by local people at Dartmouth Farmers' Market: locally grown produce and flowers, locally raised meats and eggs, locally baked and crafted food, and handmade crafts, goods and art. 
The most picturesque places to enjoy fresh cuisine inspired by Devon's land and sea.
Riverside dining – every table has a wonderful view overlooking the River Dart to Kingswear. The menu is designed to ensure all dishes are freshly sourced and the menu changes on a daily basis to reflect this. 
If you fancy a romantic diner, a meal with friends, a Sunday Lunch or private dining room for a celebration, Bushell's is ideal.
Booking is always recommended. 
Taylor's is a small intimate restaurant with relaxed music & lighting, an attractive décor of sparkling chandeliers & mirrors – with the stunning backdrop of Dartmouth's beautiful harbourside. Lush…
Head chef Luca Berardino brings you a modern take on classic dishes from Europe and beyond.  Vegans and vegatarians  are also well catered for. Open for breakfast lunch and dinner every day.

Rockfish has great outside decks and terraces. You can order drinks and seafood, whilst enjoying the fantastic views over the Dart river and Dartmouth harbour.  Nothing beats this style of casual dining, eating fresh fish outside by the coast on sunny day.
Cruise... the English Riveria
Explore the coastline on a steam train
Dartmouth river boats & steam trains operate on the River Dart offering daily scheduled services, short boat trips and full day excursions.
The Round Robin is their award-winning full day excursion – a steam train journey, ferry crossing, river cruise and bus ride. It's a lovely day out…
There are many different options available each day so you can choose an itinerary that suits you best and spend time exploring the towns along the way (hopping on and off…).
Journey times are: steam train (c.30 minutes), a river boat (c.90 minutes) and a bus (c.30 minutes)
1 hour circular river cruises operate daily
Regular ferry services to the villages of Totnes and Dittisham
Family tickets are available
The Round Robin runs from 1st April to 28th October in 2021 (Torquay Round Robin runs 1st April to 30th September).
An artillery fort, built to protect Dartmouth harbour
One of the most beautifully located fortresses in England. For over 600 years Dartmouth Castle has guarded the narrow entrance to the Dart Estuary and the busy, vibrant port of Dartmouth. It offers stunning views of the estuary and out to sea.
Climb to the top of the battlement for splendid views over Dartmouth town
By foot… you can walk (just over one mile) from the town centre, through Bayards Cove from the end of Castle lower road  OR…
 Catch a ferry boat ride to/from the castle – just 10 mins each way
Dartmouth Castle is also a starting point for the glorious South West Coastal Walk
 Sit outside and enjoy a home-made cream tea in the sunshine  – the Devon version obviously… In Devon, the scones are split in two and topped with cream followed by jam. In Cornwall, the split scones are topped with jam and then cream
No fussing with timetables – just go when you like, come back when you like

From Dartmouth Castle (Stumpy Steps) 5:00PM
Platform 1 - Champagne bar and restaurant on Dartmouth harbour
A lovely place to sit… and enjoy the view of Dartmouth Harbour. You can sit in or out; have  lunch/dinner… or just sip a glass of champagne… beer…  wine or enjoy a coffee.
Oh…Salcombe… one of our favourite destinations for all sorts of reasons. Famous for Devon ice-cream, Salcombe gin, shopping, their sandy beaches, history, water activities and ferry connection links to around the South Devon coast.
And their crabs! Salcombe crabs are shipped around the world. If you would like to give 'crabbing' a go, you can buy lines, bait and buckets from local shops.
Some of the best restaurants, bars and cafés are in Salcombe – serving locally caught fresh seafood and locally farmed produce.
So many flavours… from blood orange, bubblegum. toffee and chocolate to butterscotch, raspberry and more…
Salcombe ice-cream shop
Address: 1 Island St, Salcombe TQ8 8DP
A full menu of ice-cream and sorbet flavours are available from the Salcombe ice-cream shop
Salcombe Dairy ice-cream is renowned worldwide as some of the very best… and sometimes you will find it stocked in your local supermarket – HOWEVER there are over 40 flavours of Salcombe ice-cream and sorbets.
If you want to try NEW flavours, you will find them readily served at many places around Salcombe and throughout Devon.

Salcombe Gin Distillery
Address: The Boathouse, 28, Island Street, Salcombe TQ8 8DP
Discover how gin is made… book a place to make your OWN at Gin School! Or… just pass by the gin bar (really good fun) and enjoy the tasting menu. 18+ only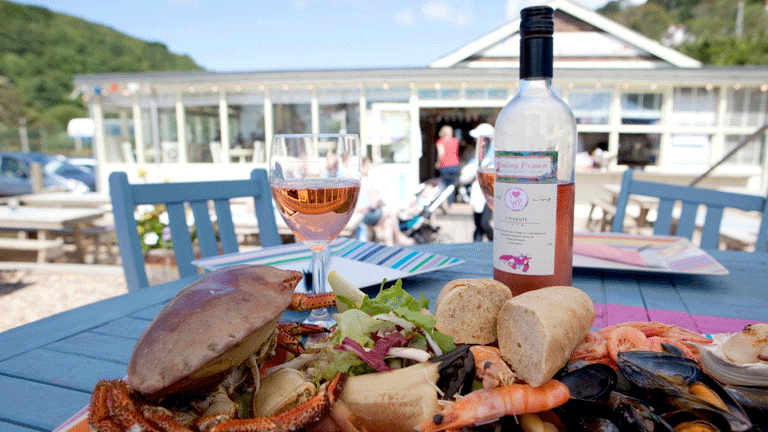 The Winking Prawn beach café - North Sands
The Winking Prawn
When you are on the beach at North Sands, you can just cross over the road in your swimwear and sarong (or shorts) and enjoy their delicious food, whilst sitting outside. 
The Jetty – Harbour Hotel & Spa
Address: Cliff Road, Salcombe  TQ8 8DP
View from The Jetty at The Harbour Hotel
For a special treat, head for The Jetty –  a seafood bar & grill, with jaw-dropping panoramic views over Salcombe Estuary, from the dining room and outdoor terrace. The Harbour Hotel is rightly proud of their in-house chefs and menus. We love a whole Salcombe crab.
Salcombe is a great destination for messing about on the water and trying out new water sports
You can hire paddle boards and kayaks from North Sands Water Sports for a day…  a few days… or for your entire stay.
Safety equipment is included in the hire price and it is easy to transport by car, as they are inflatable and come with a pump. Also a shop if you want to buy your own.
At Salcombe Paddle boarding they teach all ages and all abilities – from absolute beginners to experienced paddle boarders – in a safe, encouraging and peaceful environment. 
With prices from £40 per person, each lesson includes: Red inflatable paddleboards, leashes and paddles, Xcel wetsuits – Gul buoyancy aids and waterproof bags.
Sitting in the heart of South Devon on the banks of the River Dart, Totnes is a unique town with an international reputation for its lively and diverse community and relaxed atmosphere.
As you wander up Fore Street you pass under East Gate Arch, the Elizabethan House Museum build in 1575 and Totnes Guildhall with 1000 years of history. Castle Street leads you to Totnes Castle a classic Norman motte and baily castle, founded soon after the Conquest to overlook the Saxon town.
Just a short walk from Fore Street, Steamer Quay sits on the banks of the River Dart looking directly out across the water to Vire Island. Head here if you are looking for an alfresco lunch – best spot…  where you can watch the world go by.
If you wish… you can take a ferry from Steamer Quay to Dartmouth (approx. 90 mins each way) and board another boat cruising down the English Riveria.
The English Riviera is a 22 mile stretch of outstanding South Devon coastline consisting of seaside resorts, rocky coves, picturesque villages and seasonally warm weather.
Take a ferry…
Steamer Quay is just a short walk from Fore Street and is arguably one of the best spots in Totnes for an alfresco lunch watching the world go by. You can catch your cruise to Dartmouth from Steamer Quay too!
Totnes market TQ9 5SF
Fridays & Saturdays – 0pens 8.45am
Today Totnes is a flourishing busy market selling food, clothes, plants, bric-a-brac, antiques, furniture and locally made goods and treasures. Great gift shopping too!
Address: Rare Breeds Farm, Totnes TQ9 5XW
Located by The South Devon Railway – Totnes Littlehempston Station
Stroke an Eagle owl... an opportunity to get up close with some rare breeds
A family run attraction right beside the South Devon Steam Railway.
The farm offers a highly interactive experience and a chance to get up really close with some very rare breeds. Cuddle up with a Guinea Pig or smooth the feathers of an Eagle Owl.
The farm is not massive – but absolutely worth a visit. You could rush around in around half-an-hour or so, or stay longer to enjoy different scheduled attractions throughout the day.
You can buy discounted multiple tickets, to include: The South Devon Railway, The Dartmoor Otters & Buckfast Butterflies and the Rare Breeds Farm which are all linked on the railway route
Multi tickets are available from the railway booking offices and on their website – with all-day unlimited travel on the South Devon railway
Wheelchair and buggy friendly
Dogs are welcome on a lead in the Garden Café, but not in the farm area itself
FREE parking is available at Buckfastleigh, where you can take the train down to the farm before catching a return ride home
Address: Castle St, Totnes TQ9 5NU
Totnes Castle is one of the earliest and best preserved examples of Norman motte and bailey earthworks still surviving and the largest in Devon. A Saxon wonder… built to overlook and safeguard the sea entry point. Walk up Castle Street and climb to the top of the keep to enjoy stunning views over the town of Totnes and across to the River Dart. Or enjoy a picnic in the peaceful grounds under the shelter of age old trees.
Find a wide range of wonderful produce all locally sourced by local people at Dartmouth Farmers' Market: locally grown produce and flowers, locally raised meats and eggs, locally baked and crafted food, and handmade crafts, goods and art.